iOS Connect
Overview
One of the very powerful features that we added is the iOSConnect. The major challenge iOS developers had been facing was the debugging of their iOS apps because of the difficult Apple guidelines regarding building any utility. With iOSConnect, you can connect to an iOS Device which is present remotely and access the device as if the device is connected to your computer. With iOSConnect, we are bridging the gap for the iOS development lifecycle
Prerequisite libraries
Users need to have below mentioned libraries in order to use the feature. If it's not present, follow the steps mentioned below to download.
1. JDK Version 8.
Process to download JDK:
Go to the link below to download JDK for macOSx. Use the highlighted link to install JDK.
https://www.oracle.com/in/java/technologies/javase/javase-jdk8-downloads.html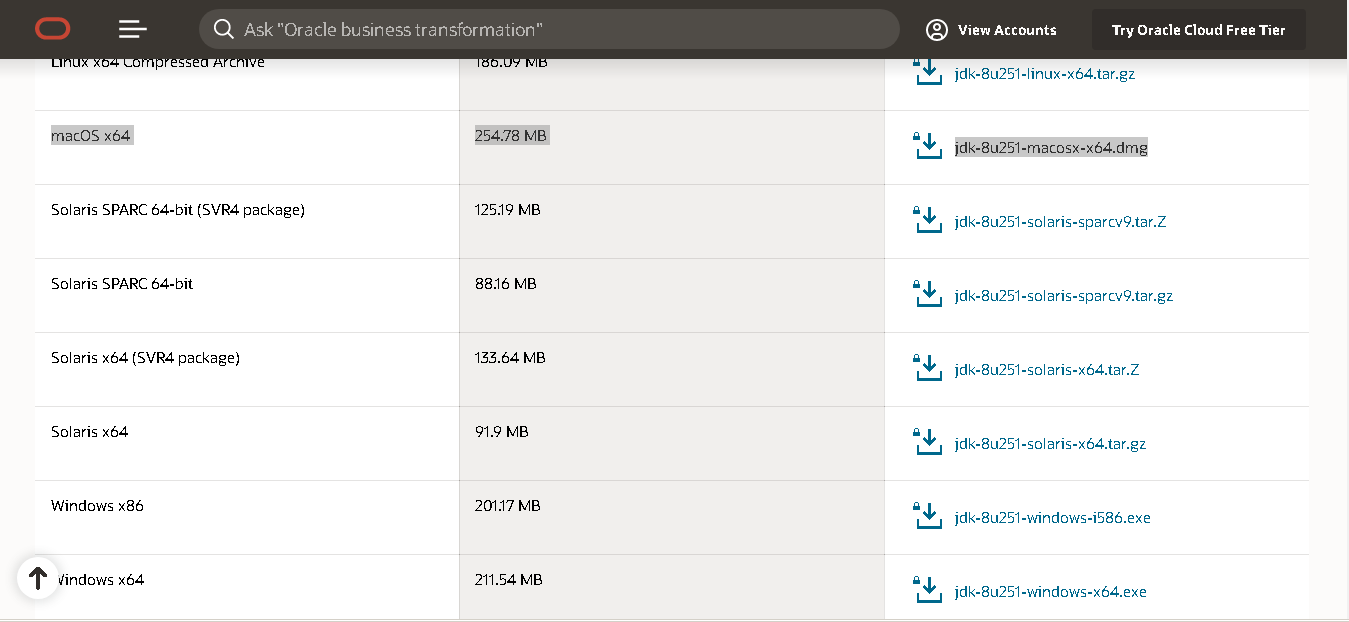 2. Xcode Command Line Tool(CLI) :
Run below command on terminal-
xcode-select —install
For more information go to the link given below
http://osxdaily.com/2014/02/12/install-command-line-tools-mac-os-x/
3. Install the socat open source library
Run the below mentioned command in the terminal.
brew install socat
Brew should be installed to run socat command
Note: If you face any error related to any permission ,please contact your IT support
Steps to run iOS Connect:
Note - Steps to get the API Key on the platform have been given below for both the Old and New Interface, please scroll down to access the instructions for the same in the old UI.
Steps to get the API key in the New User Interface (New UI)
Step 1 - Login to your registered account on device.pcloudy.com
Step 2 - Click on your initals given at the top right corner of the screen and click on Profile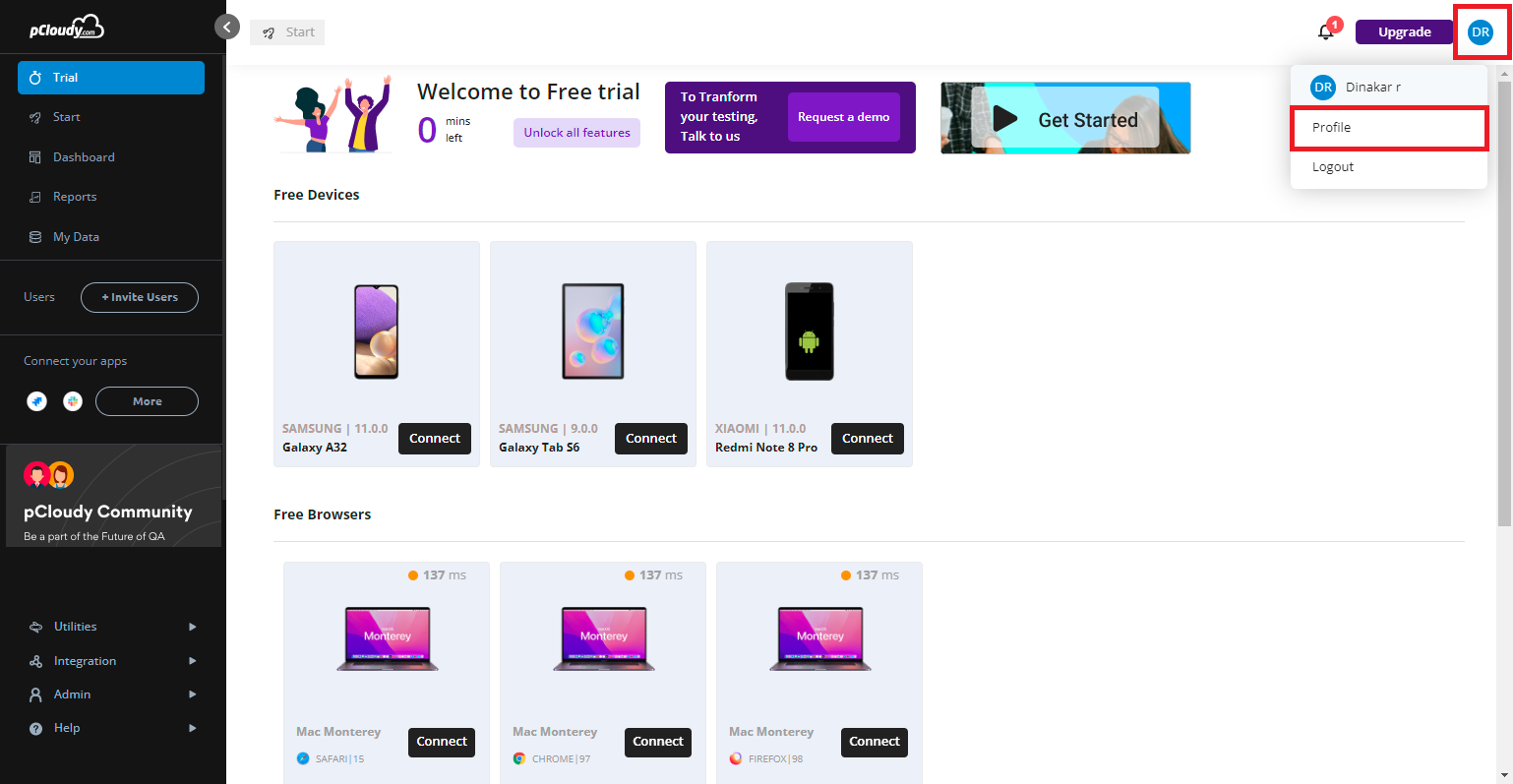 Step 3 - You can find your API access key here. You can copy the same or click on Regenerate to get a new one.
Steps to get the API key in the Old User Interface (Old UI)
Step 1- Login to pcloudy account and Get access key from cloud URL
Here are the steps to get an access key from the URL.
Go to the device page
Go to the account settings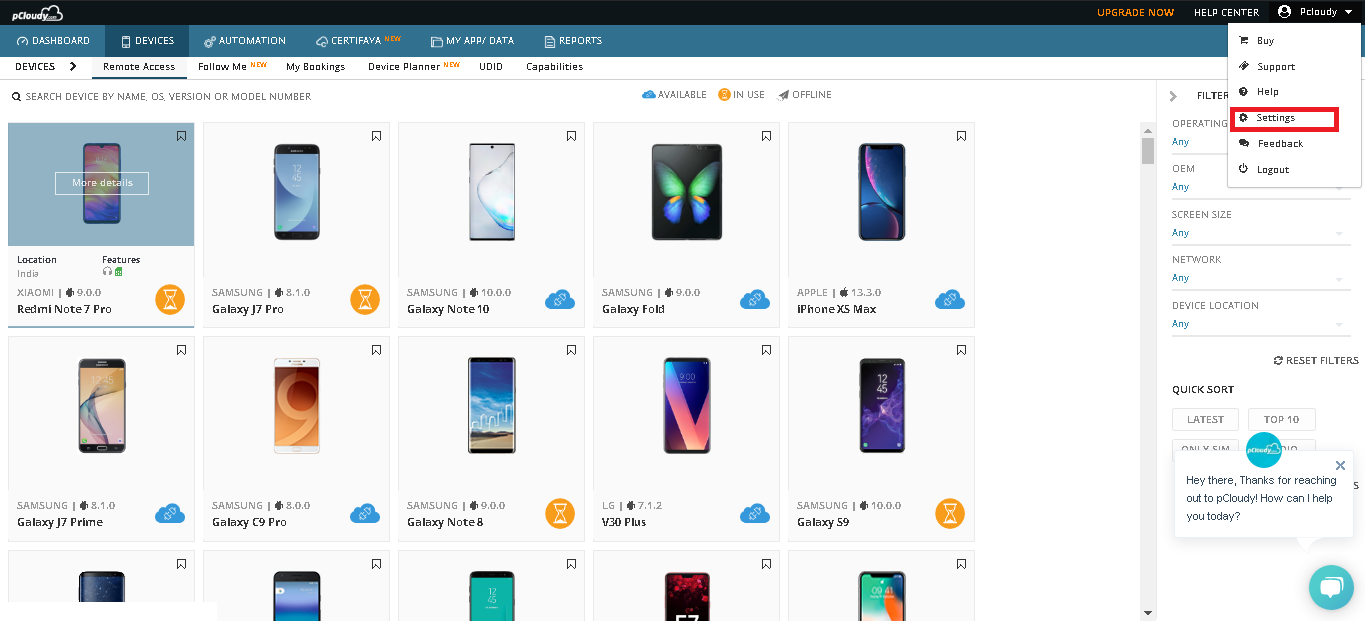 Copy API Access_Key as shown in the below screenshot.
Step:- 2 Download the JAR and run the below-given command on the terminal as per the required details.
Jar can be downloaded from the below provided link
https://content.pcloudy.com/executables/ios/iOSConnectV5_1.jar
Command:- sudo java -jar iOSConnect.jar (cloud URL) (username) (API access key) (System name)
Example:
1. Cloud URL : https://dev-main.pcloudy.com
2. Username :abc@gmail.com:
3. API access key: aghjkingfhjkingfdsss
4. System name: radmin
Step 3: The user needs to enter system password once the command is executed.

Step:- 4 List of available devices will appear on the terminal.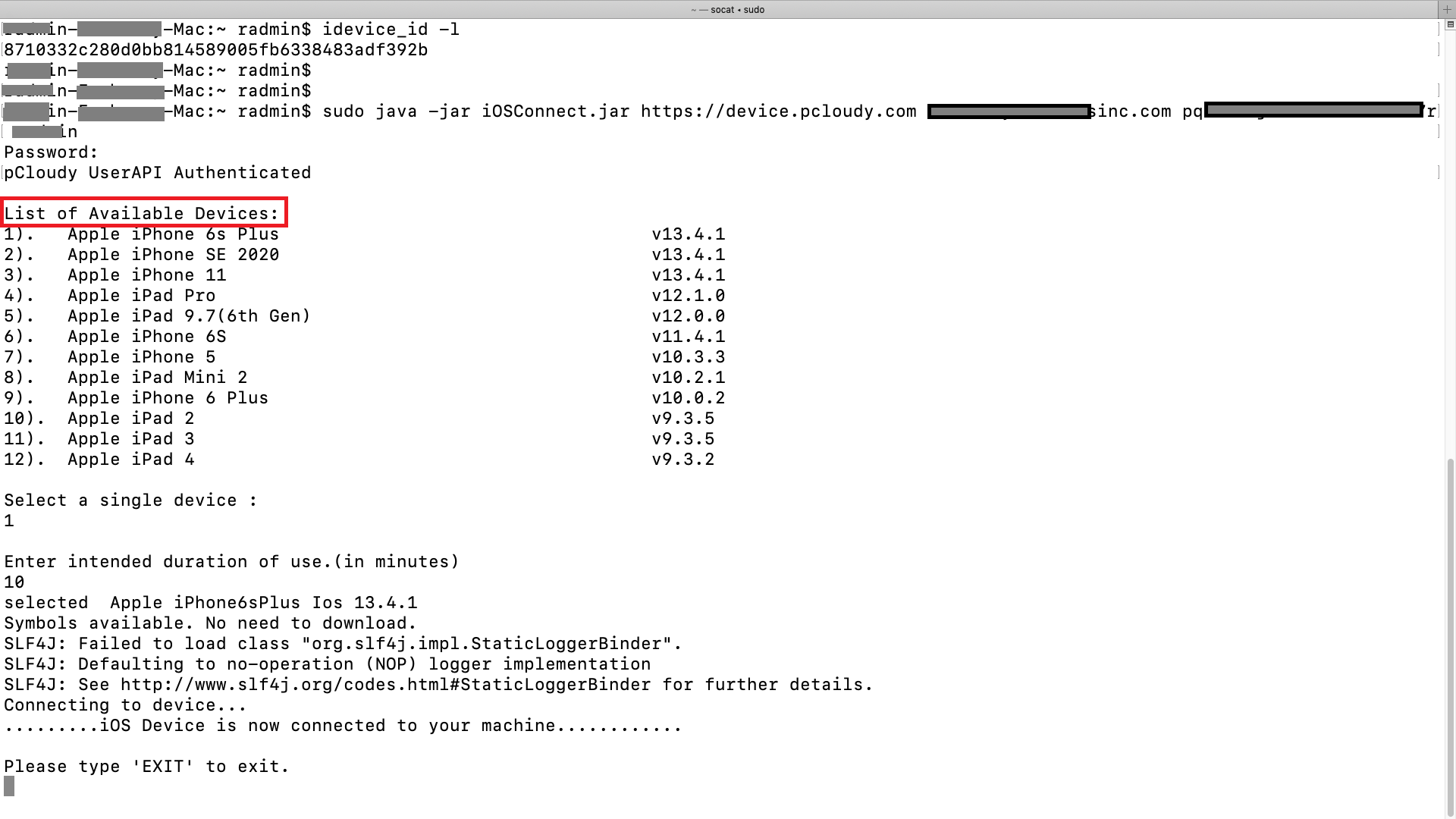 Step:- 5 Choose the devices from the list and enter the duration (in minutes) as shown below.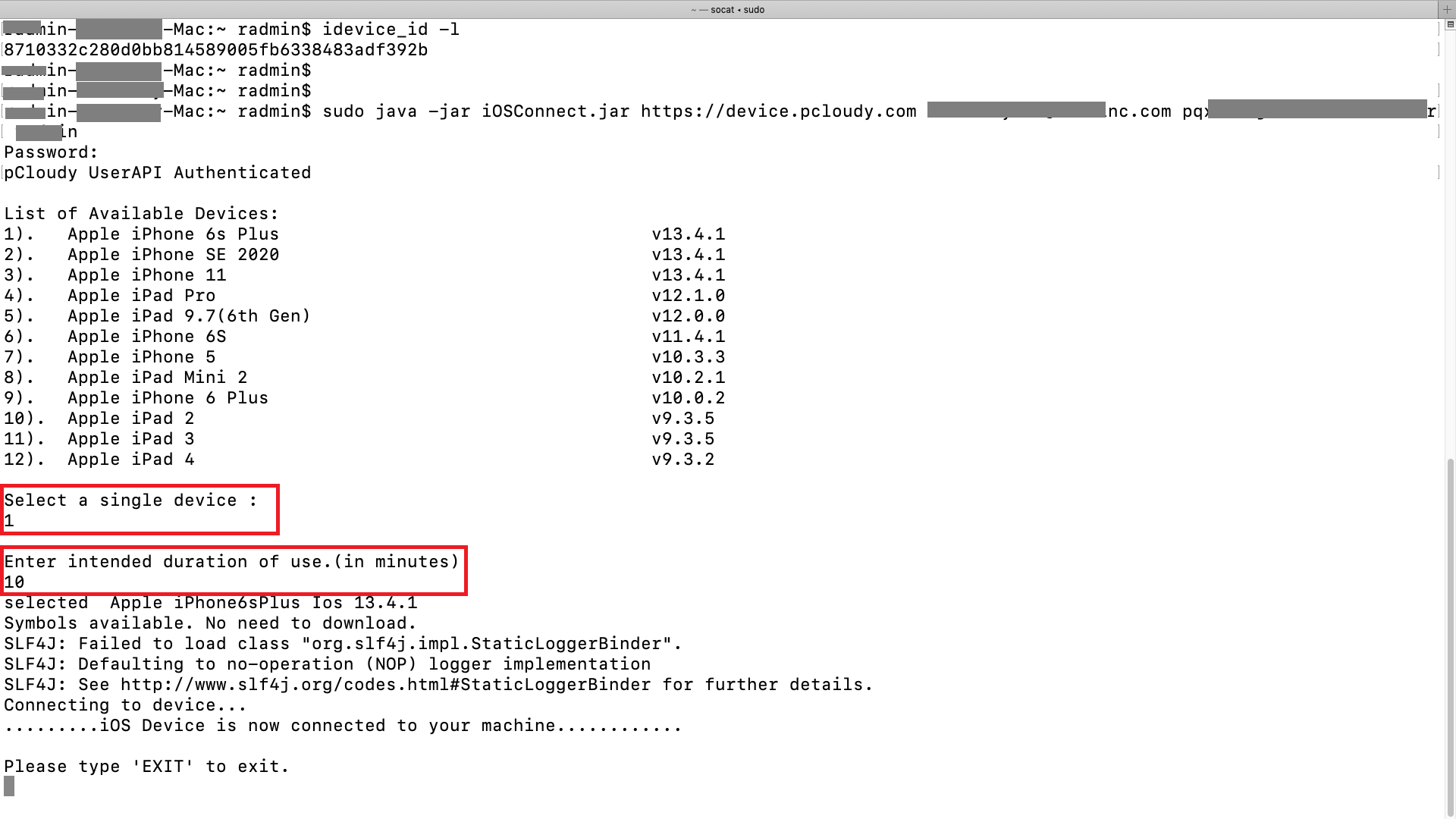 Step:- 6 The file will be downloaded and installed, this might take few minutes. Once installation is successful, a message appears "iOS device is connected to your local system"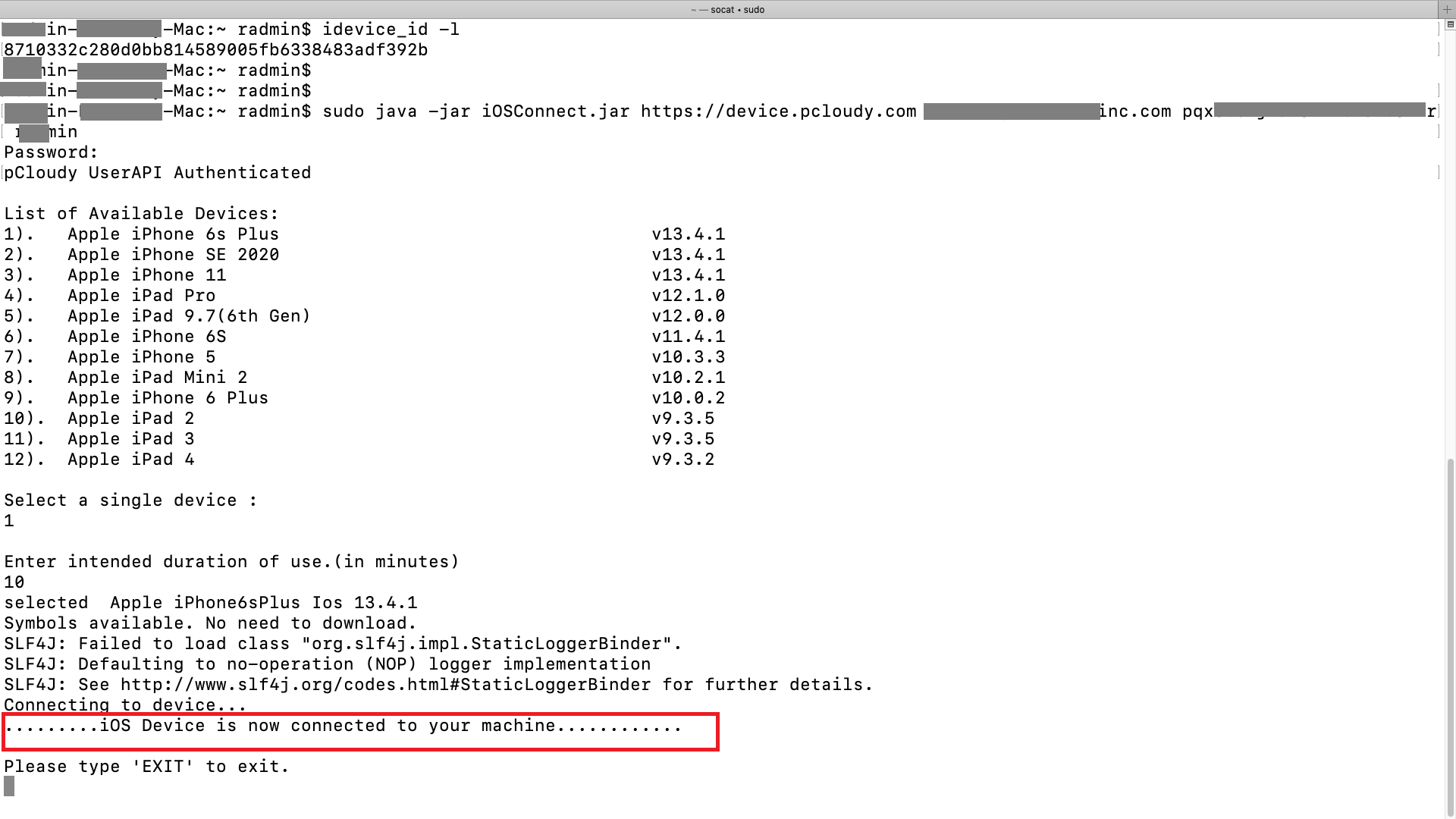 Step:- 7 To verify the connected device,open your xcode and check the device section.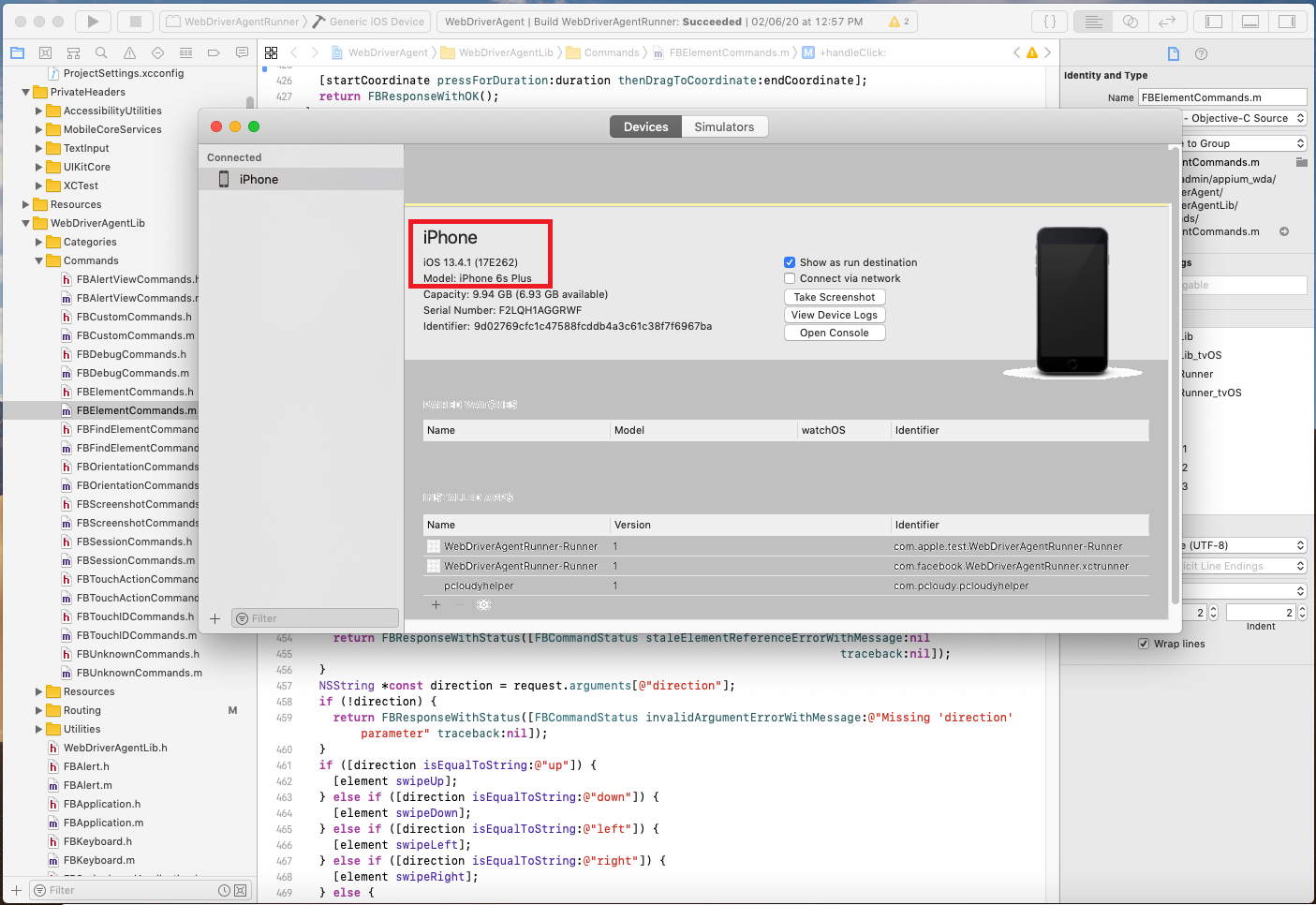 Step:- 8 To exit: Type exit in the terminal