Opkey is Now pCloudy

We are thriving in a 'Digital First' world. In this digital era, quality assurance remains the major gear behind a digital success and for that it has to work in tandem with the other. As per Gartner majority of organizations have taken up digital transformation projects. These are in the areas of Mobility, Cloud or Data analytics.

Today digital transformation is at its peak because after decades of development it has become incredibly useful. Still, if you look closely, trough is what is waiting after a crest. And it's true for digital transformation as well as you can already see the contours of its inevitable descent into the mundane. 

So what's next?

It's Continuous Next.

We have seen that digital transformation projects taken up by organizations are siloed in nature. To take the next leap which Gartner has termed as Continuous Next there is a need to unify the siloed tech effort by connecting the major touchpoints like mobility, cloud, data etc.



With a mission to propel success of largest digital transformation projects through the power of Futuristic Testing, pCloudy saw this trend early.

This led us to unify our 2 different products – Opkey and pCloudy and go ahead with this product enhancement merger. Opkey is now officially pCloudy Automation Studio.

This product enhancement merger gives way to a complete Digital Assurance platform which enables Quality @ Speed for apps while you connect touch points to achieve Continuous Next.

We do it through portfolio of tools which connect seamlessly in one single platform.

Platform is comprised of three suites of tools:
1) Autonomous Mobile Device Cloud – reliable Test infrastructure for Mobile App Testing
2) Zero code factory Automation Studio allowing rapid Automation for Mobile, Web, and APIs
3) Pre-built Test Accelerators for Enterprise Apps like Salesforce, Oracle Fusion, Workday etc..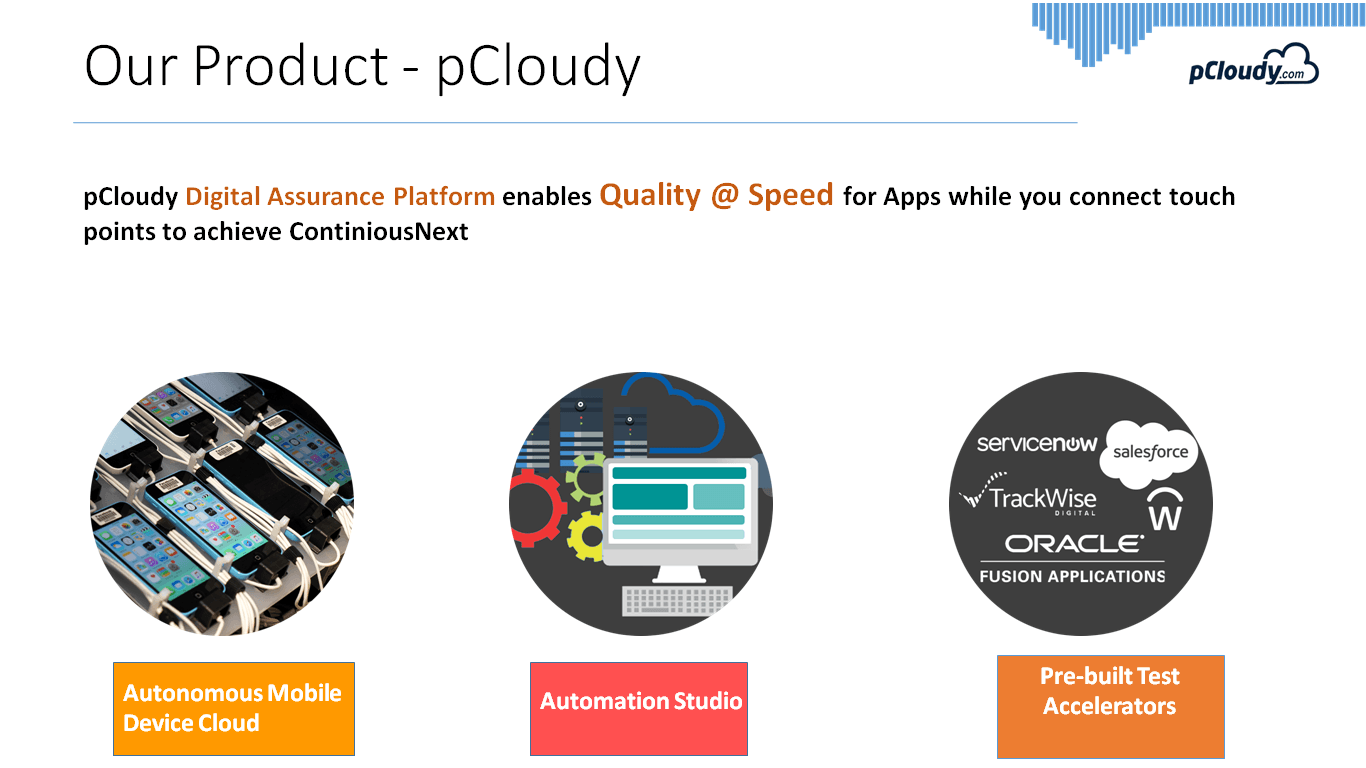 This is yet another step to ensure to help you propel success and take a big leap in your digital transformation journey.

We assure the smooth merger of these 2 products which will make organizations take leap in their digital transformation journey. If you have any questions regarding this merger feel free to write back to us.

Related Articles: