Choose A Mobile App Testing Lab For Your Need
Every Application
Team Must Have
Scalable Infrastructure
With pCloudy's scalable device lab, device availability and test run for large scale automation runs never poses to be a challenge for enterprises.
Remote Access Of Devices
Test from anywhere anytime. An ideal fit for the enterprises with geographically spread test teams.
Enterprise Grade Security
Our Datacenters are compliant with internationally recognized security standards like ISO27001, SOC2 and SSAE-16.

Designed For Speedy Testing Of Apps
The tool has been designed to run high volumes of real device tests with low error rates and continuous availability.
App Testing Features That
Elevates Mobile Experiences

Single Click Functional Testing
Do more and still save time for yourself while performing mobile application testing on a single device through single click capabilities.

Real World Conditions Simulation
Know how your app behaves across field conditions and scenarios. Simulate various real world conditions and network profiles.

Collaboration
Seamless integration with collaboration tools like JIRA, SLACK helps app testing teams spread across the globe stay connected for hassle free app testing.
Native Device Features
Leverage to all the touch features and gestures on the remote devices as you use the device in your hand.
Real Time Debugging Simulation
Use DeviceTunnel to connect to a device directly from Eclipse or Android Studio. Debug like the device is connected to your local machine.

Test Failure Analysis
Leverage to the power of progressive reports that can speed up your testing process multi-folds with its detailed analysis on why tests failed and how to fix them.

Localization Testing
With localization testing, get control over regular device settings with access to switch system language to meet the needs.
Voice Interaction
With huge demand for voice interaction features, you can now do audio interaction testing on remote devices over cloud
AI Powered By Automation Bot
AI driven app health check to assist your mobile app testing. Bot driven Exploratory functional tests with comprehensive Health-check and analysis
Integration With
Popular Automation Tools
Certifaya – Single Click Autonomous App Certification With Bots
Just upload your app and wait for the bot to deliver a comprehensive test report for the app.
Running Crash Test Scenarios The bot runs the crash test covering several installations/uninstall scenarios along with random events on the App, that too, on multiple devices. It is the best way to do a sanity check for every change in your App.
Swift and Deep Exploratory Tests Certifaya smart testing bot crawls the app automatically and navigates through the app path like any human would do, collecting all the relevant data for the app. The user will get a comprehensive report on the app's functionality and performance on multiple devices.
Read More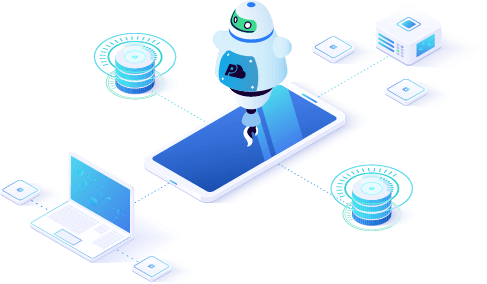 Other
Product Capabilities
Other
Important Resources