Three Pillars You

Need For Automation Execution
Speed
Get ready for large scale runs to achieve coverage with speed in automation execution

Reliability
Assurance that your tests can run 24×7 on devices in parallel.
Scalability
Move from parallel testing on few devices. Scale up to any number of devices on demand.
Elastic Scaling

For Your Large Test Suites Is No More A Problem Now
Easy Integration For Parallel Runs
Test Framework Agnostic: Support of any of your Native and Open Test Framework. Integrate any of your Native and Open Test Automation Framework easily to start executing your tests on multiple devices in parallel.
Large Scale Runs
Designed for large test suites which can run for many hours. Run on device in parallel and speed up your app testing multi-folds.


Test Orchestration For Distribution Of Test
Distribution of Tests: Scale up your test orchestration with pCloudy. Scheduling, queuing, distributing, and running orchestrated test cases help you manage and optimize your automation executions with ease.
CI Pipeline
: – Use CI pipeline to run automated tests such as Unit , API, UI at various stages .
Lag Free Execution With No Flakines
No Flakiness We ensure that devices are clean up and in a ready state so that you tests can run for a long duration without any failures
Lagfree execution
Creating a script quickly is not enough if the scripts are not stable. Identification, isolation, and fixing such tests quickly to ensure the stability in automation execution is important. Get lag free automation execution with some smart techniques like having an alternative to Xpath, leveraging technologies like AI for object recognition, or through smart sync for asynchronous app behaviour.
Integration With
Popular Automation Tools

Appium
Appium is an automation tool to test native and hybrid apps, as well as mobile websites. It drives iOS, Android, and Windows apps using the WebDriver protocol.
Learn More


Espresso
Espresso is a test automation tool for Android applications developed by Google.
Learn More

Selenium
Test your web apps on real devices by integrating one of the most preferred automation frameworks with pCloudy.

TestNG
Integrate TestNG with pCloudy to perform unit, functional, end-to-end, and integration testing using Java language.
Learn More

Other
Product Capabilities
Certifaya – Single Click Autonomous App Certification With Bots
Just upload your app and wait for the bot to deliver a comprehensive test report for the app.
Running Crash Test Scenarios The bot runs the crash test covering several installations/uninstall scenarios along with random events on the App, that too, on multiple devices. It is the best way to do a sanity check for every change in your App.
Swift and Deep Exploratory Tests Certifaya smart testing bot crawls the app automatically and navigates through the app path like any human would do, collecting all the relevant data for the app. The user will get a comprehensive report on the app's functionality and performance on multiple devices.
Read More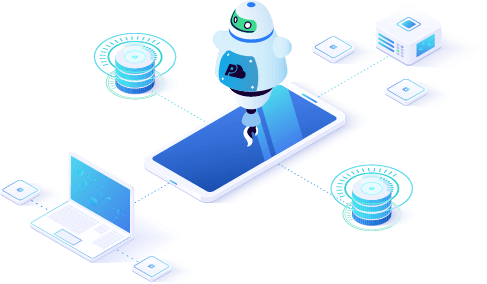 Other
Important Resources