Improve Test Efficiency

And Quality Of The Apps On The Move
Real Time Debugging With Progressive Reports
Get rid of dependency on external reporting. Access to rich artifacts and get detailed report on failure reasons to find out exactly what went wrong and get step by step drill downs for fast resolution.

Sharable Reports

You can share your detailed reports with your team saving a lot of time and efforts.

Integration With Collaboration Tools
Integration with collaboration tools like JIRA and SLACK makes it a unified platform to share the reports and log bugs in the collaboration tool of your choice.
Find And Fix Bugs

In No Time With Progressive Reports

Logs
Monitor and get device logs while performing functional testing on the application under test which helps users to follow the logs and track the test flow.

Videos
Leverage to the detailed video of the test performed on the app which makes it easier for developers to debug.
Screenshots
Take one to one high pixel screenshots next to the device for reference and share it with the team for faster debugging.
Frequent Response Details

Find detailed network request/ response information for the application under test for faster testing.

Performance Reports

Monitor the performance metrics for the AUT while performing functional testing where you get insightful reports like battery, memory and CPU charts etc.

Bug logging with JIRA/SLACK
An integration with collaboration tools like JIRA/SLACK, testers can also log a bug directly to their JIRA/SLACK account
Actionable Insights

For The Entire Team

Developers
Developers are sure to enjoy the umpteen list of features that are integrated into the platform for easier interaction and usage.
Automation Expert
Running Appium & Selenium Scripts for your automation testing needs are available to test native, hybrid and web apps for both mobile and cross browser testing.

QA Team
The exhaustive list of parameters that are captured through real-time analytical test reports are easily available for analysis to ensure quality on par with the needs.
Certifaya – Single Click Autonomous App Certification With Bots
Just upload your app and wait for the bot to deliver a comprehensive test report for the app.
Running Crash Test Scenarios
The bot runs the crash test covering several installations/uninstall scenarios along with random events on the App, that too, on multiple devices. It is the best way to do a sanity check for every change in your App.
Swift and Deep Exploratory Tests
Certifaya smart testing bot crawls the app automatically and navigates through the app path like any human would do, collecting all the relevant data for the app. The user will get a comprehensive report on the app's functionality and performance on multiple devices.

Read More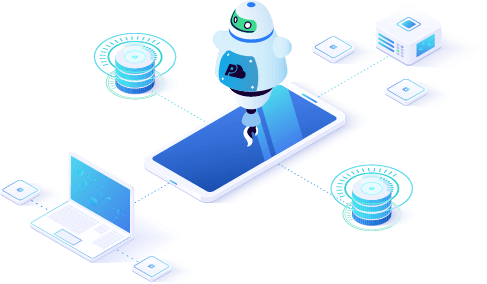 Other
Product Capabilities
Other
Important Resources