Intelligent Digital Mesh is the entwining of people, devices, content, and services enabled by digital models, business platforms, and a rich, intelligent set of services to support digital business. We have witnessed the implementation of AI in every technology to leverage the benefits of autonomous systems. Enterprises are now focusing on using AI with technologies like blockchain and immersive technology which will create new categories of apps. In this type of environment, attaining optimum device coverage will be essential to ensure quality services. Now let's understand the fundamentals of the intelligent digital mesh.
Intelligent
In the near future, most mobile applications and services will use artificial intelligence or machine learning at some level. AI will be the inconspicuous force of most of the popular app categories while creating some new ones. Intelligent apps also create a new intelligent layer between people and systems as seen in enterprise advisors and virtual user assistants. Augmented analytics is also gaining ground and helping enterprises in enhancing business intelligence and data analytics using ML and NLP. Another use of AI and ML is in intelligent things like smart vacuums, drones, autonomous farming vehicles, etc. Intelligent devices are getting smarter to serve better and reduce human dependency to a minimum.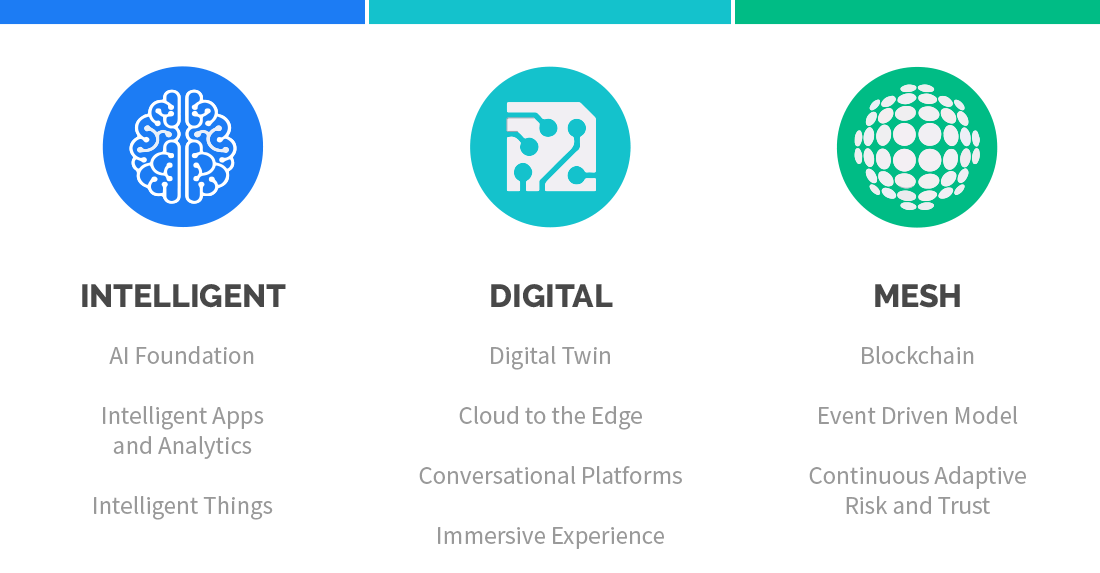 Source: Gartner.com
Digital
When we talk about digital, we mean digital twins, cloud to the edge, conversational platforms, and Immersive Experience. A digital twin is a digital representation of real-world objects. It offers information on the state of the counterparts, improves operations, and adds value to the operations by responding to the changes. In the near future, all the aspects of human life and the real world will be interconnected with their digital representation capable of advanced simulation, analysis, and operation. This combined with immersive technologies like AR, VR, and MR will take extended reality to a new level.
Mesh
Mesh is the connection between devices, people, businesses, services, and content to build a digital ecosystem that yields high-quality results. Here mesh refers to technologies like Blockchain, Event-driven, and continuous adaptive risk and trust (CARTA). Enterprises are keen to find new ways to sense the new business events to get the most out of it. A business event can be a change in the status of the deal like finalizing a deal. Using new technologies like AI, it will be easier to detect a business event and analyze it in greater detail.
Security is one of the most important and ever-evolving processes in digital businesses. There is a need to think beyond infrastructure and parameter protection. Continuous adaptive risk and trust assessment is a people-centric security approach that allows for real-time risk and trust-based decision making. New methodologies like DevSecOps and adaptive honeypots should be implemented to strengthen the security of digital businesses.
Automation Testing For Intelligent Apps
Intelligent apps are at the core of the intelligent digital mesh. Nowadays most apps use artificial intelligence, machine learning, or predictive analysis to make suggestions to the customers. The apps use real-time and historical data from user interactions and other sources to predict the needs of the users.
To ensure the quality of apps it is important to test the apps using futuristic tools. Manual testing is just enough and even automation needs to be scalable to get better results. Testing the app on a cloud-based app testing platform is the best choice you can think of – as you can use as many devices as you want to test your app. Also, parallel testing increases app testing efficiency by multifold times.
pCloudy's AI-powered autonomous testing bot steals the show when it comes to testing intelligent apps. The bot tests the app on real devices with just a single click and generates a detailed report based on the test result.
Conclusion
Mobile devices, by and large, are the focal point of most of the innovations that are happening around the intelligent digital mesh. Whether it is Ai driven development, autonomous things or immersive experience, mobile apps still used as a foundation to provide the technology to the masses. But the growing complexities of intelligent apps make it crucial to implement new methods of app testing. A cloud-based app testing platform like pCloudy is suitable to ensure quality at speed in mobile app testing. The freedom of accessing hundreds of real devices from anywhere at any time and perform manual or automation testing using futuristic features is the correct way to test intelligent apps.