Qualcomm launched it's flagship SoC Snapdragon 865 5G mobile platform, but without an integrated modem. The reason why Qualcomm is not selling the 865 with an integrated LTE modem, might be because OEMs are not interested in splitting their high-end products into LTE and 5G segments. With this new launch, it looks like Qualcomm is really pushing OEMs to launch 5G equipped high-end device in 2020. On the other hand, AT&T, Verizon and other carriers around the world have been spending a great deal of money on 5G deployments.
Snapdragon 865 and X55
Snapdragon 865 is a dual-chip system, but according to Qualcomm, it won't impact power consumption. The 5G modem is not integrated into the chip due to the complexities of supporting different types of 5G networks. Although in Snapdragon 765, the X52 modem is integrated, it sports lower download and upload speed.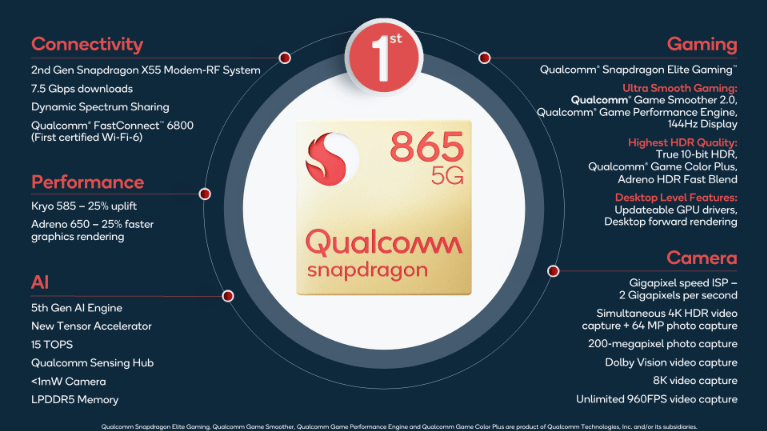 Source: www.anandtech.com
Some users have complained about the power consumption and heat are issues in the devices loaded with Snapdragon 765. To rectify this, further improvements to packaging, node shrinks, antenna placement, device panel power consumption, and SoC interconnects might be needed to bring device battery life back up to the consumer's expectations.

There have been some negative speculations about the latest 5G mobile platform, but I think that the Snapdragon 865 will be an improvement for the 5G devices to be launched in 2020. OEMs are eager to sell 5G but they don't want the user experience to be compromised for the new feature. The negatives of using an off-die modem can be balanced by improvements in other metrics.
Rapid 5G Deployment
The 5th generation of cellular technology promises to improve the coverage, speed, and responsiveness of wireless networks. Users have indicated constant speed around 1 Gbps, often touching 1.4 Gbps. That's 10 to 100 times faster than 4G connection and even faster than a fiber-optic connection. This means you will be able to download a season of Brooklyn-nine-nine in a few seconds.

In the US, T mobile and AT&T are leading the way to deploy 5G in all the major cities. Sprint and Verizon are not far behind. But to get widespread coverage of 5G network we might have to wait till the later months of 2020.
Apple A13 Vs Snapdragon 865
The snapdragon flagship 865 has a 5th generation Qualcomm AI Engine is 2x more powerful than its predecessor and an all-new Hexagon Tensor Accelerator. The Kyro CPU provides a 25% faster performance. But is it better than Apple A13?

It is a common conception that Apple's processors are two generations ahead of the Android processors. There are many processors in the 5G race like Kirin 990, Exynos 990, and Dimensity 1000 5G, but there is always a comparison between Snapdragon and Apple processors. In the speed test done by Android authority, it was found that A13 is 25% faster than SD 855 but it didn't stand a chance in front of SD 865.

In the speed test, the Snapdragon 855-based Galaxy Note 10+ completed the CPU section of the test in 45.3 seconds, the iPhone 11 Pro Max finished it in 40.0 seconds and the 865 completes the same test in 36.6 seconds. So Snapdragon 865 is 8% faster than the iPhone 11.

Apple A13 still has the upper hand in terms of GPU performance. It took 16.9 seconds for the Qualcomm Reference Device to finish the 3D Unity test but the iPhone 11 Pro Max finished it in 14.5 seconds.

AnTuTu and Geekbench also have similar performance reviews. The scores show that A13 and 865 are neck to neck when it comes to overall performance.

The Road Ahead
In countries like the UK and South Korea, things are catching up fast. China too announced that it will roll out 5G network in all the major cities in 2020. The only thing that will hinder the deployment of 5G in the rest of the world including the developing countries is the cost.

The chipsets launched by Snapdragon and other companies are costly which adds up to the cost of the devices. So, for now, the 5G network will be made available on high-end devices like Samsung Galaxy S10, iPhone 12, Oneplus 7 Pro, etc. Looking at the speed of 5G deployment in the US, we are sure that the majority of the urban population will be able to use 5G services early in 2020. We can also expect new 5G enabled SoC launches with better specifications early next year.