pCloudy has grown since the last time we met for a day trip in early 2022. And as new members join the team, it becomes more and more important to bring together people that don't work together everyday to connect as a team and strengthen our team synergy. At pCloudy, we have always believed that our greatest asset is our people. So we try to constantly look for opportunities to improve the team morale and build an A-Team. That's how the plan for an off-site to Sakleshpur (A beautiful hill station in Karnataka, India) was hatched. 
Right before we started our two-day trip to Sakleshpur, we wanted to reunite as a team and co-work at our office in Bangalore as we've been working from home since the pandemic. This was an exciting opportunity to meet the new members of the team for the first time and reconnect with the old ones. We chatted, laughed, and celebrated the milestones that we had achieved to date. We also spent hours brainstorming, discussing important topics, and planning the future direction for pCloudy. We also defined several challenges that we had recently faced as a team and also compiled feedback gathered from our stakeholders. We then dived into a collaborative session to come up with ideas and solutions for those problems. We realized that it was easy to have tough conversations in person and nobody took criticisms personally which is a testament to how successful the coworking session has been. 

The next day we started from the office to Sakleshpur early in the morning. It was a wet and cloudy day – typical Bangalore Day.  We were excited to spend time in a new environment and left our laptops at home to disconnect and be in a headspace to just relax and enjoy the moment. As the bus started, the rain stopped and sunshine filtered in through the windows. All team members started chatting although a few tried to catch some sleep since everyone had woken up quite early. Soon, we stopped for breakfast at a restaurant on the way. We had a delicious South Indian breakfast over a good conversation with our mates. 
After Breakfast, we were all high on energy so HR conducted a few fun games on the bus. We played Dumb Charades first. And as the bus entered the hills, the fresh wind cheered everyone up – It was the perfect time to play Antakshari. Few people sang songs in chorus while the others clapped enthusiastically. It was surprising to see people have so much fun on a bus journey which is usually considered unattractive and dull. I must say, this bus journey is one of the most memorable and eventful experiences in my life.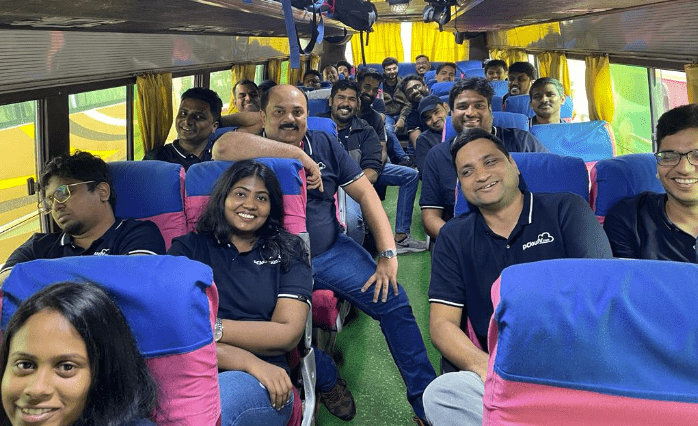 After we arrived at the resort in Sakleshpur and settled in, our co-founder, Avinash Tiwari encouraged us to bond over a cricket match because he believes that sport can bring people together as equals as a team. It doesn't really matter how many years of experience you have or the title you hold in the company – there's no room for anything else apart from talent and effort. This cricket tournament helped in building camaraderie, collaboration, communication, trust, and the ability to take risks among the team. It was also a great opportunity for the team to exhibit their leadership skills, mental toughness, group effort, and ability to make strategic decisions under pressure which all are very relevant skills that are needed to outshine in one's career as well. 
A few of us who were not really interested in Cricket had a quick badminton session as well. 
It was night and the temperature finally dropped down and it was the right time for a Bonfire Night! We gathered around the campfire laughing, joking, dancing, and celebrating life at pCloudy.
The next day morning, we started our day with a trek to the nearby coffee plantation. We had an amazing time trekking uphill and downhill witnessing the picturesque coffee shrubs and hilly environs of Sakleshpur. While trekking, occasionally our teammate who is leading would shout "How's the Josh" to which we'd shout back "High Sir!", recreating Vicky Kaushal's famous punchline from the movie "Uri". 
Just before heading back to Bangalore, we decided to make a pit stop at a sightseeing point named Hosahalli Gudda. Little did we know that it was one Kilometer trek uphill. Athleticism is a strength for many members of the team so they easily made it to the top of the hill. However, for people like me, who are not so athletic it was exciting to be challenged out of our comfort zone. As we reached the top of the hill, the panoramic vista of the green stretch was breathtaking. As a soft and cool breeze brushed our faces, I've never felt more refreshed and relaxed. We all wanted to stay in that moment a bit longer but it was time to head back home. 
As a team that works remotely, we really appreciate the quality time that we got to spend together in person with our teammates. This offsite was a perfect chance for us to unwind from work, reflect on what we've accomplished, and form deeper relationships with the people whom we spend most of our day with. We went home with our souls recharged and excited about what we hope to accomplish in the days to come.