What's New in pCloudy 5.2
We are very excited! V.5.2 of pCloudy has been released with a number of exciting new features and product improvements. This update brings some path-breaking features, some revamped ones building on previous experiences, more mature than ever before.
Check it out yourself!
a)Test local or Staged sites with Local site emulation: It's a path breaking feature for enterprise mobility. For all the users who have been asking for a solution to test their private servers on pCloudy devices before deploying them on production, we have a good news for you.
Now, you can access your site behind a firewall, on a staging server, or locally with pCloudy before it hits production.
Since private servers are internal to your network, they have no public access which makes it difficult to test on a device on cloud. Local Site emulation Testing provides a platform to test private or internal servers on any Android device present on pCloudy. Find the details about this feature here.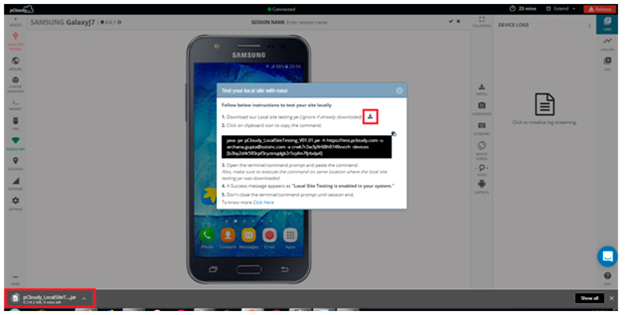 b) Test your app with Face ID feature: Apple introduced the ability to perform authentication via FaceID to enable secure and effortless access to the device. But it turns out to be a hindrance for mobility teams while testing their iOS apps on devices over cloud. To ease out the process of authenticating Face ID manually every time, you can now bypass the FaceID verification in your apps using our utility.
With this feature released, you can instrument your iOS app for both TouchID and FaceID on pCloudy. Isn't it a bonanza for iPhone users? Click here to find out more about this feature.
c) Inspecting Element using Appium Desktop: Appium Desktop is a point-and-click interface for using Appium and inspecting your app's structure. With this new feature you will be able to run Inspector sessions on pCloudy. You just have to login in to your registered account, set up the desired capabilities for your test appropriately, and you'll be able to drive your app remotely using Appium Desktop. Read More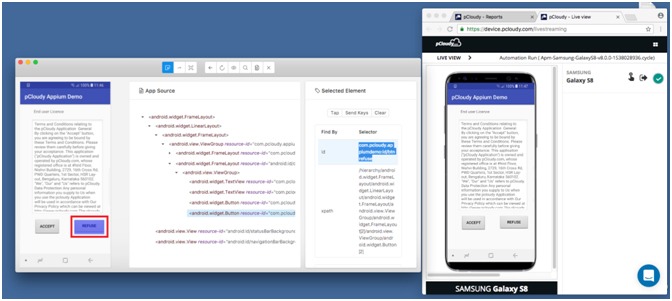 d) Releasing Follow Me Officially: 'Follow Me', the one-of-its-kind feature to speed up the manual app tests has been available on beta version for you to test your apps manually and report us the issues. After a rigorous quality assurance done for the features and fixing most of the issues reported, we are now releasing 'Follow Me' officially to manually test your apps in synchronous mode and accelerate it exponentially. Read More