Future Trends
Living in a technological era has forced entrepreneurs to adapt to current market and technology trends. Mobile is one such driving force that is propelling enterprises to another level.
E-commerce industry is so vast that it needs a proper channel or platform to reach a wider spread of audience. Android and iPhones both have turned to be largely used platforms used by people across the globe.
Consumers of ecommerce industry today use their mobile devices in numerous contexts like – making a purchase anytime, anywhere, browse and get details about a product while shopping in store. A mobile app serves as a bridge connecting all channels and touch points between a retailer and a customer which they together leverage to get a great and seamless shopping experience. Let us have a look at the trends that tend to set the future of mobile apps in e-commerce industry.
A Rising Influx of Mobile Shoppers
Just as smartphone usage and sales continue to tick upward, mobile shopping is likewise expected to rise. Mobile devices currently account for 19% of all ecommerce sales in the United States; however, the figure is projected to rise to 27% by the end of 2018, according to an Invesp report. This influx of mobile shoppers also presents new challenges to merchants, though. Though desktop driven ecommerce sales may be plateauing, but data from Comscore shows that online sales are booming as a whole. Sales from mobile devices are now leading the charge with an annual growth rate of 59% that eclipses desktop 17%.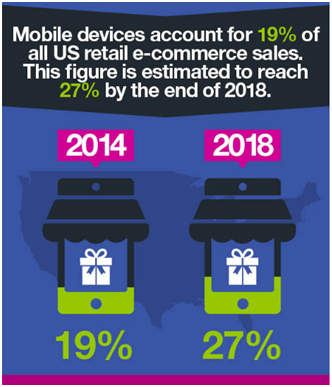 More Prevalent Storefront Apps
In a response to the aforementioned challenge of appealing to mobile buyers, expect to see a new wave of mobile "storefront apps" to reach buyers on-the-go. This trend goes hand in hand with the need for merchants to have omni-channel presence, as well. Given that mobile users spend 86% of their time within apps versus mobile sites, perhaps branded native smartphone shopping apps are the key to converting those once-fickle customers.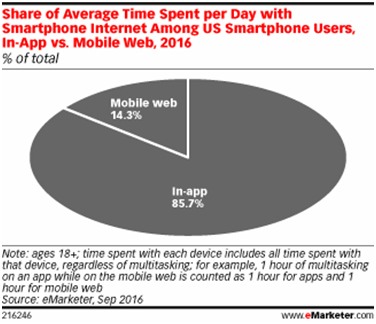 After all, if a customer is willing to go through the effort of downloading a mobile app, chances are they're loyal and trusting enough to make ongoing purchases. "App commerce" platform Poq recently found that storefront apps outperform mobile web conversion rates by 40%, support longer browsing sessions than even desktop web browsers and are twice as likely to drive repeat visits. This all makes sense given the game-changing functionalities that storefront apps offer, which include superior content personalization opportunities, push notifications and geo location-integrated brick-and-mortar shopping recommendations.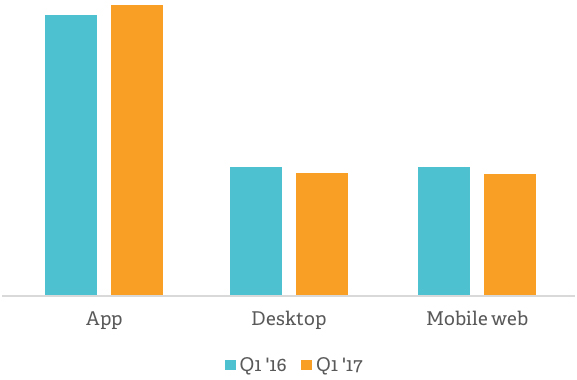 Poq's compelling solution, for one, offers a centralized content management system that merchants and marketers can use as a unified data hub that uses an API to automatically sync with analytics platforms, payment gateways, customer review platforms and more.
Boom of app adoption in Indian market
Over 80% of buyers surveyed in India now prefer using apps over mobile browsers to shop on phones, compared to the global average of around 70%, according to a report published by payments technology firm Worldpay. At an average download of 10 mobile apps per day, India has been far ahead and is a thriving market beating its rival U.S and U.K. where the average downloads are 7, the report added. Indians downloaded 12.1 billion apps last year, dethroning the US's app economy (11.3 billion).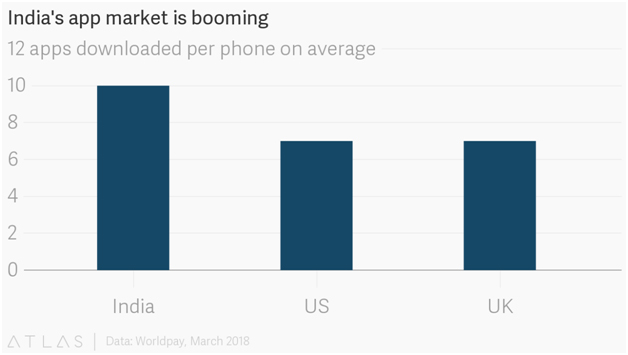 Getting the app experience right can yield handsome rewards for e-tailers. After all, according to the Worldpay report, one in three Indians spent more than Rs4,000 ($62) on their last purchase. Tapping the right market will be the key to their success for e-tailers.
Conclusion
Nobody can truly predict the future in regard to ecommerce. However, these current trends will continue to heavily influence the space for the time being. One thing that is inevitable for the evolving e-commerce industry is that they should maintain the highest quality apps with fastest time to market. The best strategy would be to test the apps on multiple real devices with different OS versions and on different parameters on a cloud based platform that can deliver better quality apps faster. pCloudy is the ideal full lifecycle digital testing cloud based platform to test all the mobile and IOT apps.
Manual, automated and crowd testing can be done on both iOS and Android devices. These tests can be run on a public cloud, on premise or a dedicated private cloud as per the need. Both Selenium and Appium tests can be run on pCloudy. One of the biggest advantage of it is that it can be integrated with Continuous Integration systems.
Sign up on pCloudy and test your apps to believe what we say.