pCloudy 5.0
pCloudy is a unified mobile app testing platform which is trusted by its users for its excellent performance. We have more than 30,000 users across the globe, and we have received an overwhelming response for our platform. From bot testing to crowd testing, pCloudy has always been a front runner in the market. And with the launch of pCloudy 5.0, we are up for the challenge once again. It is a re-imagined and re-worked upon platform created in-line with intelligence to meet the market demands and accelerate delivery.
Let us have a look at what's new here:
Features
a. iOS Connect
b. Automation Studio
c. Follow Me
a) iOS Connect: One of the very powerful features that we added is the iOS Connect. The major challenge iOS developers had been facing was the debugging of their iOS apps because of the difficult Apple guidelines regarding building any utility . We are proud to say that we have been successful in cracking that.
With iOS Connect, you can connect to an iOS Device which is present remotely and access the device as if the device is connected to your computer. With iOS Connect we are bridging the gap for the iOS development life cycle.
b) Automation Studio: It is another promising feature that can revolutionize mobile app automation. We now have an in-built automation studio in pCloudy platform where you can access the devices to record your test scripts and execute it in parallel on multiple devices without writing any code.
There's something more to it! If you already have your projects on Appium you can record your new workflows and export it to Appium Java format. This new integration would not only enable every user to start creating Automation scripts but it will also help Appium users to speed up their Automation. This makes pCloudy truly a Unified app testing platform.
c) Follow me: It is again one of the 'wow' features of pCloudy 5.0. This feature can speed up your App Testing exponentially. Follow me allows you to test your apps on 3 unique device while performing your test on only 1 device, thus saving your testing time multi-folds.
Re-Imagined UI
It has been designed to give a leaner, simpler and faster user experience. The look and feel of the pCloudy platform has been transformed keeping in mind the requirements, usability and ease of our users. All the pages have been made more intuitive. To simplify, we have grouped the actions together to save your time in figuring out the next step.
a. True Collaboration
b. Global File Storage
c. Comprehensive reports at a single stop
d. Test Scheduler
a) True Collaboration: We have introduced a powerful feature on our revamped Device Interaction page. Now, you can take the screenshot of the action you are performing and see the screenshot next to the device. But, the icing on the cake is that you can edit the screenshot, save it and log a bug directly to the JIRA enabling true collaboration between the developers and testers.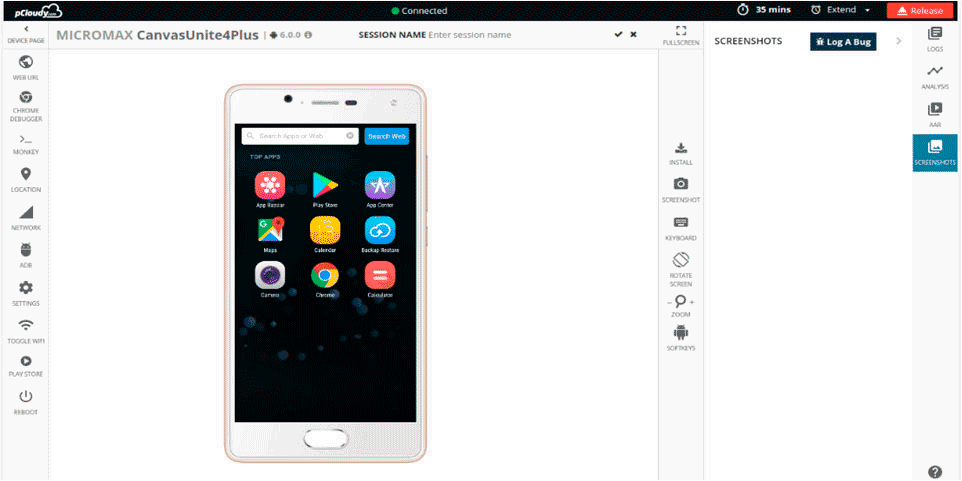 b) Global File Storage: Heeding to the demands of our users we have reduced the clicks to perform any action on the File browsing /storage page. The file uploaded once will be available across all the different locations we have. It will also allow sharing of files across teams.
c) Comprehensive reports at a single stop: Now, to make the user experience simpler and faster, we have placed all your reports at single stop be it manual or automation across all locations. Not just that, you can see all reports in the same format with much detailed information. Raising bugs after analyzing reports is also possible from here.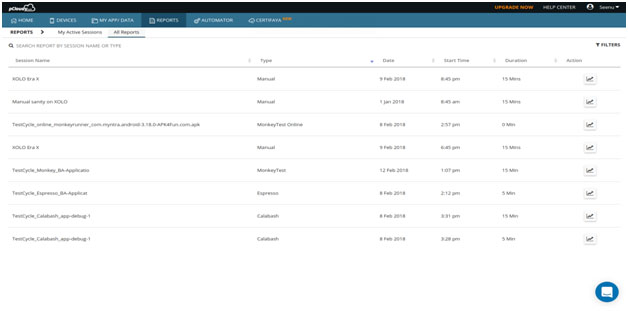 d) Test Scheduler: We have re-designed this page based on a Guided interface where the interactions are more thoughtful, straightforward, and guide you to the next step. It needs zero learning to run automation scripts on multiple devices.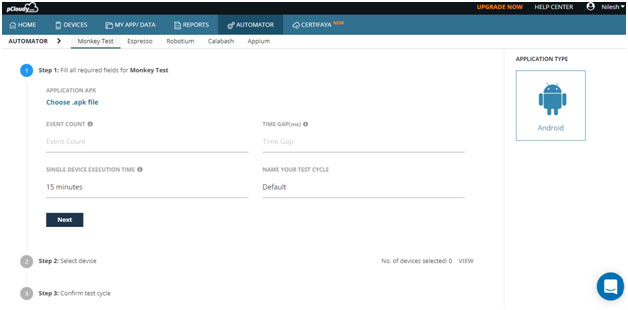 pCloudy 5.0 is another breakthrough for us. After launching pCloudy 5.0, it is time to get feedback on a larger scale. We're going to continue improving the UI, the navigation, and add some futuristic features to make your app testing simpler and faster. While we do that, we'd love to continue getting feedback.